18m Working Height Towable Aerial Working Light Platform

Product Description
Manual Pushing Scissor Lift is a scissor structure man lift for aerial work which can be towed by man power.
It is for one or two persons aerial working purpose.
The maximum platform height is 3m,6m,7.5m,9m,11m,12m,14m,16m.
And the maximum loading capacity is 300Kg, 500Kg, 1000Kg.
The mechanical structure make the platform stability, wide operating and high loading capacity.
Normal scissor lift lifting power is AC power, DC and both AC&DC power are also available for option.

Scissor lift platform is easily operated by the control box both on the platform and ground. The supporting legs can guarantee the stability of the lift. More safety for workers working on the platform with the guardrail. Besides the AC power, you also can add motorized device for assist walking.

Application for Scissor Lift
Scissor lift platform can be used in the factory, warehouse, public places , stations and so on.
It provides you a good choice for aerial working.


Model List
| | | | | | |
| --- | --- | --- | --- | --- | --- |
| Model | MK600 | MK750 | MK900 | MK1100 | MK1200 |
| Load | 500Kg | 500Kg | 500Kg | 500Kg | 500Kg |
| Platform Height | 6m | 7.5m | 9m | 11m | 12m |
| Working Height | 8m | 9.5m | 11m | 13m | 14m |
| Platform Size | 1.85*0.88m | 1.8*1.00m | 1.8*1.00m | 2.1*1.15m | 2.45*1.35m |
| Lifting time | 54S | 72S | 80S | 88S | 90S |
| Motor Power | 1.5Kw | 1.5Kw | 1.5Kw | 2.2Kw | 3Kw |
| | | | | | |
| --- | --- | --- | --- | --- | --- |
| Model | MK1400 | MK1600 | MK600T | MK900T | MK1200T |
| Load | 500Kg | 300Kg | 1000Kg | 1000Kg | 1000Kg |
| Platform Height | 14m | 16m | 6m | 9m | 12m |
| Working Height | 16m | 18m | 8m | 11m | 14m |
| Platform Size | 2.45*1.35m | 2.75*1.5m | 1.8*1.00m | 1.8*1.25m | 2.45*1.35m |
| Lifting time | 120S | 130S | 80S | 100S | 135S |
| Motor Power | 3Kw | 3Kw | 2.2Kw | 3Kw | 4Kw |
Standard Configuration for Manual Pushing Around Scissor Lift
AC power : 220V 50Hz/60Hz, single phase or 380V 50Hz/60Hz, three phases
Rain-proof electric cabinet
Beacon light
Inflated Tyre
Forklift slot
Towing hook
Chinese domestic brand hydraulic power pack
Pressure gauge
Auxiliary release valve
Level gauge
Emergency stop button both on platform and ground
Key lock power switch
Lockable stabilizer
Anti-skid floor on platform with removable handrails
Toe protection boards on the platform
Operation voltage at 24V
Ladders for access to the stowed platform (Ladder for easy accessibility)
Limit switch provided for top motor shut off
Removable control box on platform
Interlock doors on platform
Detachable/Foldable Fence
Powder coating painting
Spring mounted handles
Nylon bush assembled in between each scissor
Short Circuit and leakage protection system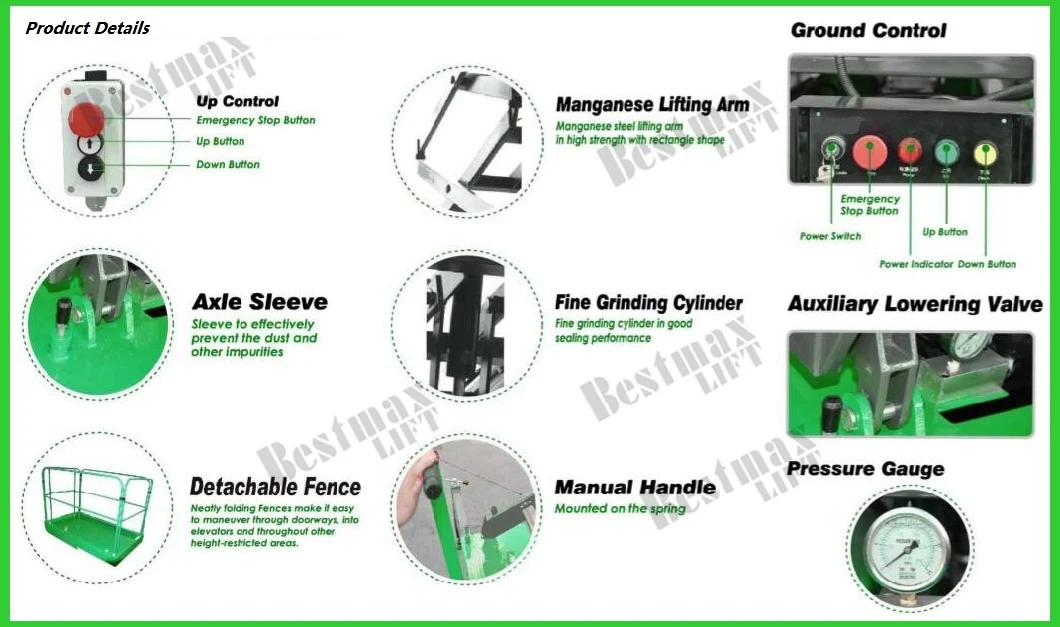 Optional Configuration for Manual Pushing Around Scissor Lift
Platform extension
Overloading protection
DC power supply
Battery Indicator for DC power
Hour meter for DC power
AC&DC power supply
Motorized device for easily pulling
Horn available for motorized device
Explosion proof type
Maintenance supporting bar
Solid Tyre
Overseas brand hydraulic power pack
Outrigger sensor
Horn on the platform
AC power to the platform
Platform working light
Anti-burst valve on cylinder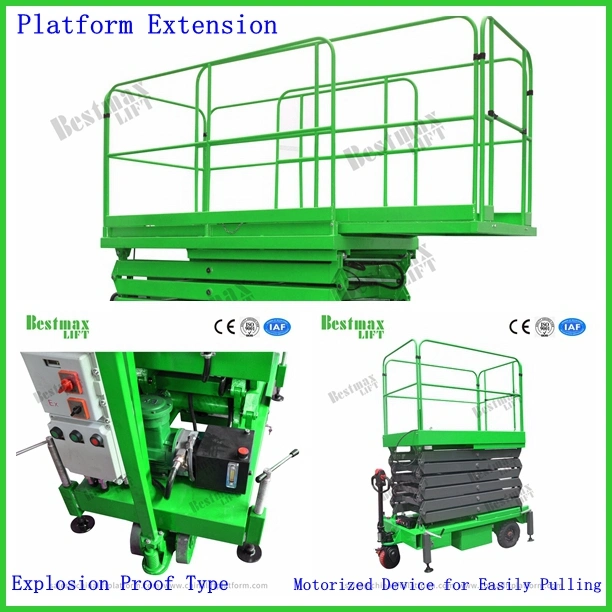 Main Feature
1.Pointing control of lifting up and down.
2.Manganese steel lifting arm in high strength with rectangle shape
3.Anti skid floor in platform
4 The control panels are available on the platforms and ground.
5. Fine grinding cylinder in good sealing performance
6.Neatly folding guardrails make it easy to maneuver through doorways, into elevators and throughout other height-restricted areas.

Safety Precautions
1.The operation voltage on the platform is 24V
2.Emergency stop button on the paltform and ground
3.Auxiliary platform lowering
4.Telescopic legs on the chassis
5.Hose burst valve safety
6.Rain-proof design electirc cabinet
7. Fence on the platform

Company Introduction
As a subsidary company of Bestmax Heavy Industry Company Limited, Chenlift (Suzhou) Machinery Co Ltd. Is a Suzhou-based world-wide supplier of lifting equipment with over 20 years of experience in the lifting industry, we have the knowledge to assist you in acquiring your next lifting equipment.

We specialize in producing in a range of aerial lift and aerial work platform equipment for your unique application.
We have established distributor relationship with customers from over 30 countries and regions in Southeast Asia, Middle East, South America, Europe and Africa.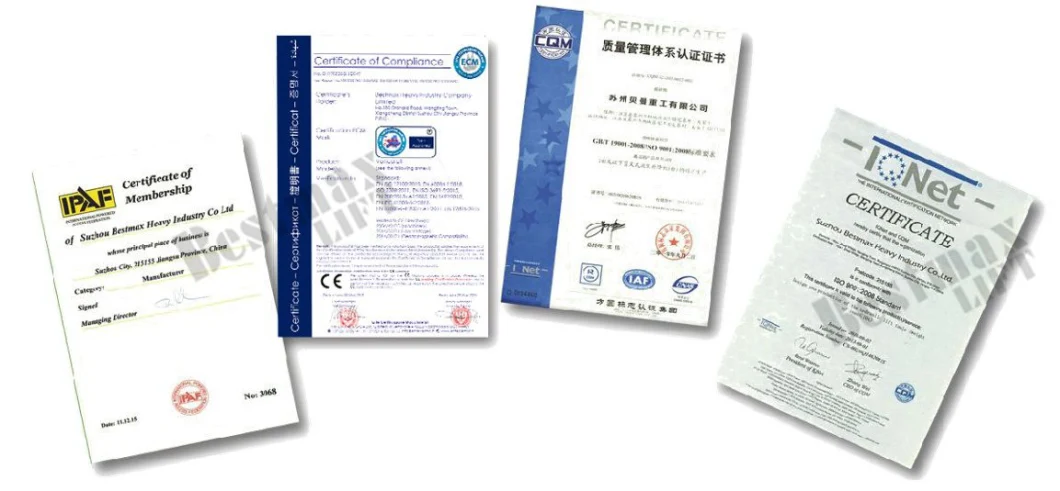 Factory Equipment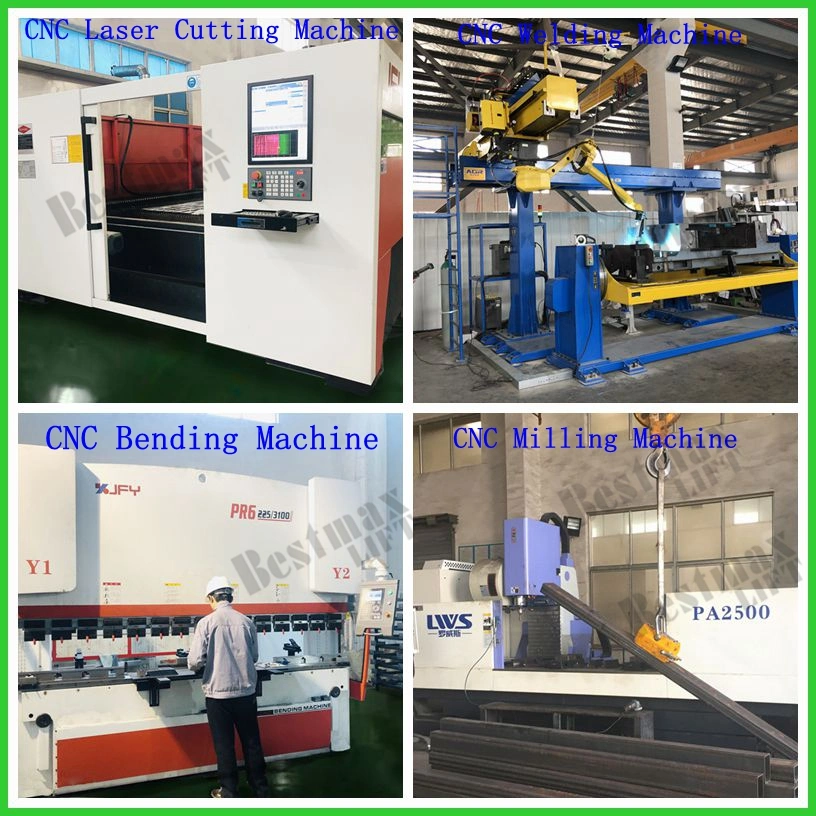 Clients & Exhibition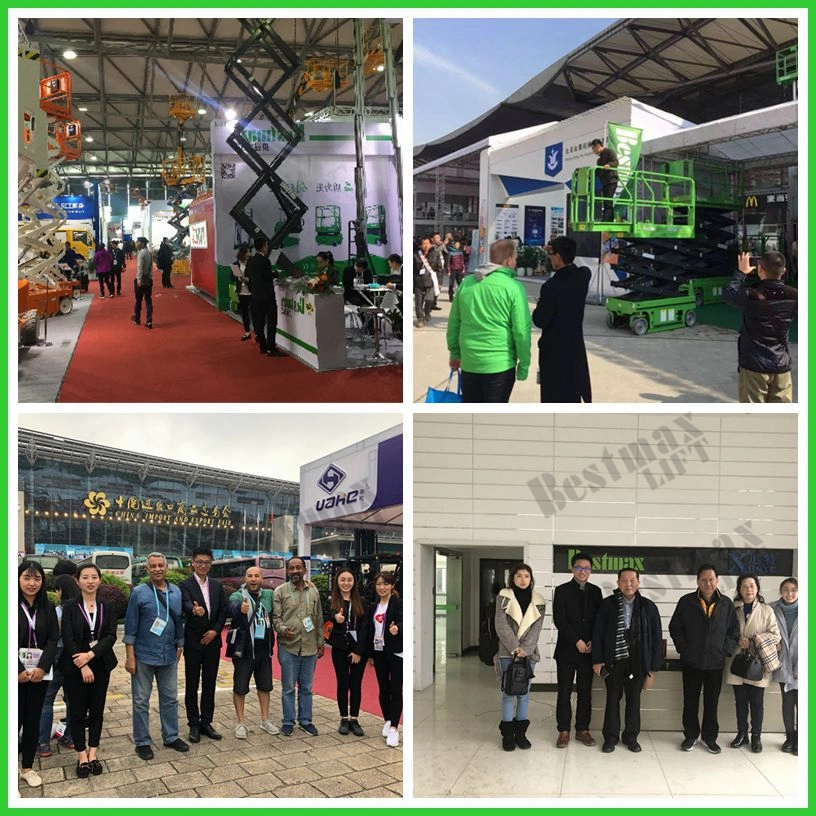 Other Related Products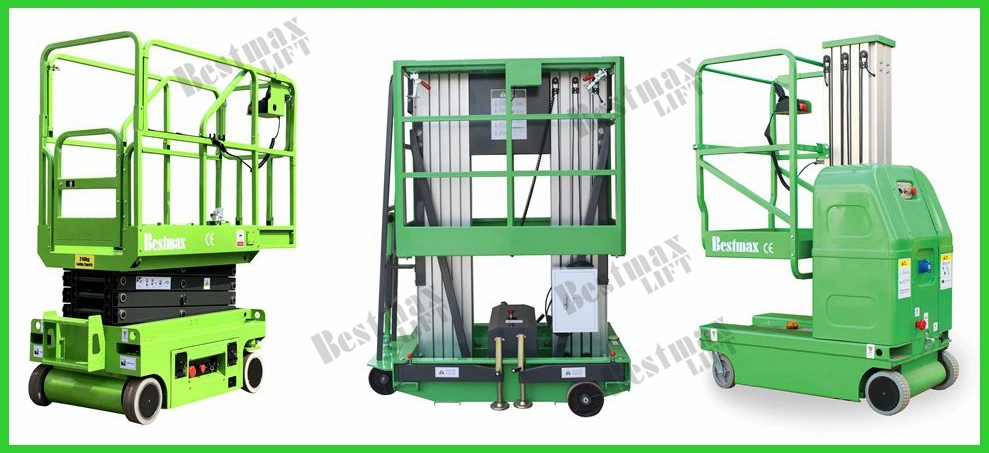 Truck-Mounted Scissor Lift

The truck-mounted scissor lift can devide into diesel engine operted and battery opertated.
The scissor lift is equipped on the diesel truck, can be easily moved especially applies to operation over long distance or field work; safely and smoothly lifting up and down.

The scissor lift can be powered by the diesel engine on the selected vehicle or by independent battery or external AC powers.

The bettery operated truck- mounted scissor lift is widely used for aerial installation & maintenance of the working site without power supply, such as large factroy, workshops, warehouse, bus stations, hotels, airports etc.





Our Service
1. We can design the customized the machines based on your requirement.
2. After knowing your detailed need, the right models will be recommended to you with good price.
3. Shipment can be arranged from our port to your destination port.
4. Operation video can be sent to you if needed.
5. Parts of machines can be sent to you by express within 7 days if needed.