Machine Description:
1.Bend-arm (C-axis) by hydraulic. Clamp die by hydraulic, Pressure die by hydraulic-bending
2.Carriage (Y-axis) by servo motor. Collet (B-axis) : rotation by servo motor, grip by hydraulic.-bend
3.Anticipated mandrel retraction unit. Standing pedestal, serves emergency stop and remote control -tube bending
4.Water-cooling system. Diagnosis error immediately.-pipe bending machine
5.Central Automatic lubrication system.-tube bending machine
6.Foot pedal for safe start.-pipe bending machine
7.It is fully automatic pipe bending machine, with PC control system (more advanced than PLC), two servo for rotary, feeding.-tube bending machine
8.Touch screen panel display English, have different bending degree prefabricate, dialogue operation, can choose manual, semi-automatic and full automatic operation manual, portable pedal switch with start and emergency stop function. Multi axles working simultaneously.-pipe bender
9.Bending pipe - Automatic. Rotating pipe - Automatic. Feeding pipe - Automatic.
10.One key back up of programs for USB or disk storage or through INTERNET. Management and storage of bend data and tools is done in standard text files on the hard disk of the control PC. In case of requirement it is also possible to integrate the PC into bending machine. Therefore an Ethernet adapter is included. The number of tools and products is practically unlimited. Product and tool files can easily be edited (also on a separate PC) and printed out.-tube bending machine
11.Security code for the protection the data setting and selected operation features.-pipe bending machine
12.To access to the history bending setting data to the facilitate study of malfunction with one set of tooling.-pipe bending machine
13.All the parts of hydraulic system, control system, driver system and display system are imported from famous brand, with high accuracy, high efficient, suitable for mass production. -pipe bending machine
14.CNC fully auto, have cubical space bending equipment, loading the whole bending process is automatic. -pipe bending machine
15.The machine is convenient operation, stable performance and high safety factor. The machine is the ideal choice for the pipe processing. -pipe bending machine
16.PC assorted with touch screen display, capable of 3D bending simulation, 3D preview and collision prevention. -pipe bending machine
17.CE, ISO9001 Certification. -pipe bending machine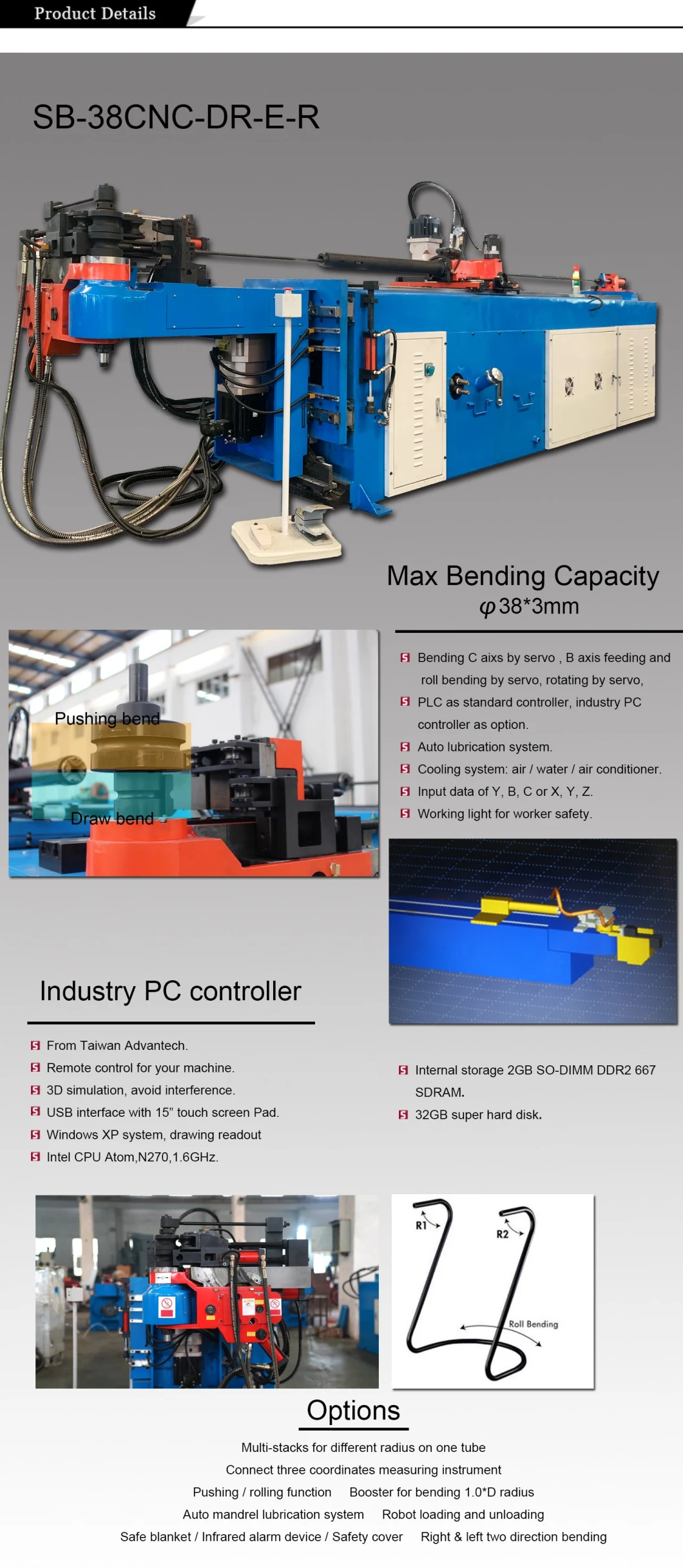 Technical Data:
No.

Item

Data

1

Max

Bending Capacity

Φ38*3mm

2

Rang of Bending Radius

25-150 mm

3

Max Bend Angle

190

Deg

4

Max Length Over Mandrel

2600 mm

5

Working Height

1120 mm

6

Bending Speed

248

Deg/Sec

7

Bending Precision

+/-0.1

Deg

8

Feeding Speed

940 mm/Ses

9

Feeding Precision

+/-0.1

mm

10

Rotate Speed

375

Deg/Sec

11

Rotate Precision

+/-0.1

Deg

12

Machine

Size

3900x1000x1500 mm

13

Machine Weight

2200 Kg


Contacts:
SANCO MACHINERY CO., LTD Since 1984
Add: 17#, Economic Development Zone, Nanfeng Town, Zhangjiagang City, China.