Stanitary Industrial Soup/Porridge/Syrup/milk/Sauce Paste Jam cooking Jacket kettle
Structure
Jacketed kettle cooker is composed of kettle,bracket,worm wheel and worm etc. The kettle can revolve within 180°, the equipment is used for open concentration,mainly for decocting and concentration of liquid in industries of pharmaceutical industry,food industry,chemical industry and light industry etc.Contact area of the equipment with aterials is made of stainless steel SUS304,which has perfect corrosion-proof performance,and is highly endurable according to GMP requirements.Blender also can be added according to customer requirements.
Application
The stainless steel jacket kettle can be applied to a wide variety of foods processing, such as candy, medicine, dairy, liquor, cake, candied fruit, drink, canned goods, sauced meat etc.It also can be used in making soup, cooking stir-fry, stewing meat, cooking porridge and so on, and it is a wonderful equipment to improve quality, reduce time and improve working conditions during foods processing.
Optional Type of Jacket Kettle
Gas Jacket Kettle
you can use natural gas, LGP and any other kind of heating medium that you have.
To natural gas, liquefied petroleum gas as a heat source, full combustion, smoke-free dust-free,a small amount of carbon deposition, no environmental pollution.The use of powerful energy- saving burners, fire fierce, thermal efficiency than similar products increased by 25%, air consumption than similar products to reduce about 20%.
Steam Jacket kettle
with Dimple jacket inside the walls for steam inject and heating. It takes the steam as thermal source. The inner surface contacted with the product are all SUS304 Or SUS316.
Electrical Jacket Kettle
Compared with steam heating, the heating temperature of the electrical jacket kettle is higher than steam jacket kettle, Which can shorten the cooking time.
Technical Parameters
Model

HD-50

HD-100

HD-200

HD-300

HD-400

HD-500

Equipment Volume(L)

50

100

200

300

400

500

Working pressurein jacket(Mpa)

<0.2

Evaporationg quantity(kg/h)

30

40

65

75

100

150

Heating are(m²)

0.4

0.45

1

1.15

1.44

1.9

Energy consumption(kg/h)

33

44

72

90

110

165

Weight of equipment(kg)

170

190

230

320

360

485

Length(mm)

720

800

1400

1450

1500

1600

Width(mm)

600

650

700

800

850

900

Height(mm)

830

950

1100

1110

1140

1150
Product Show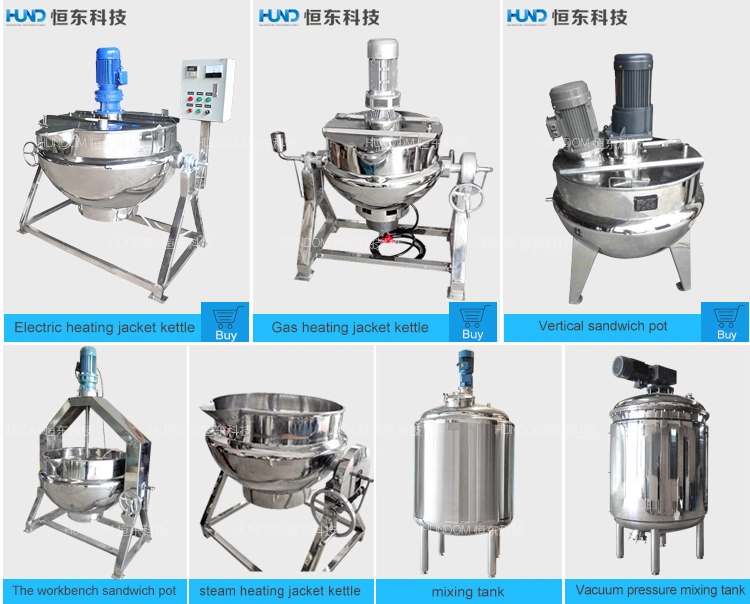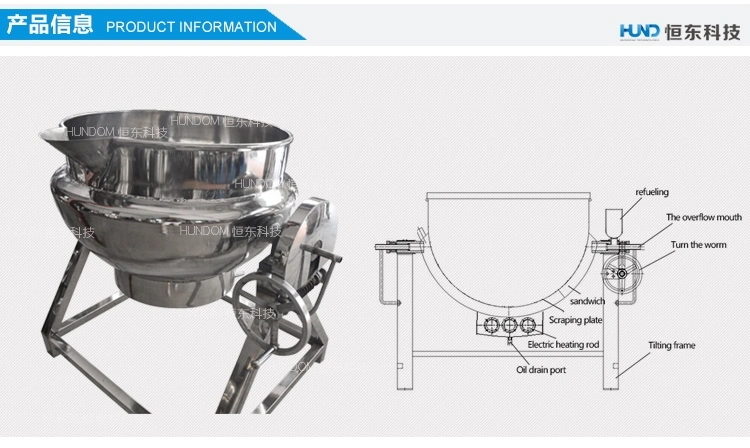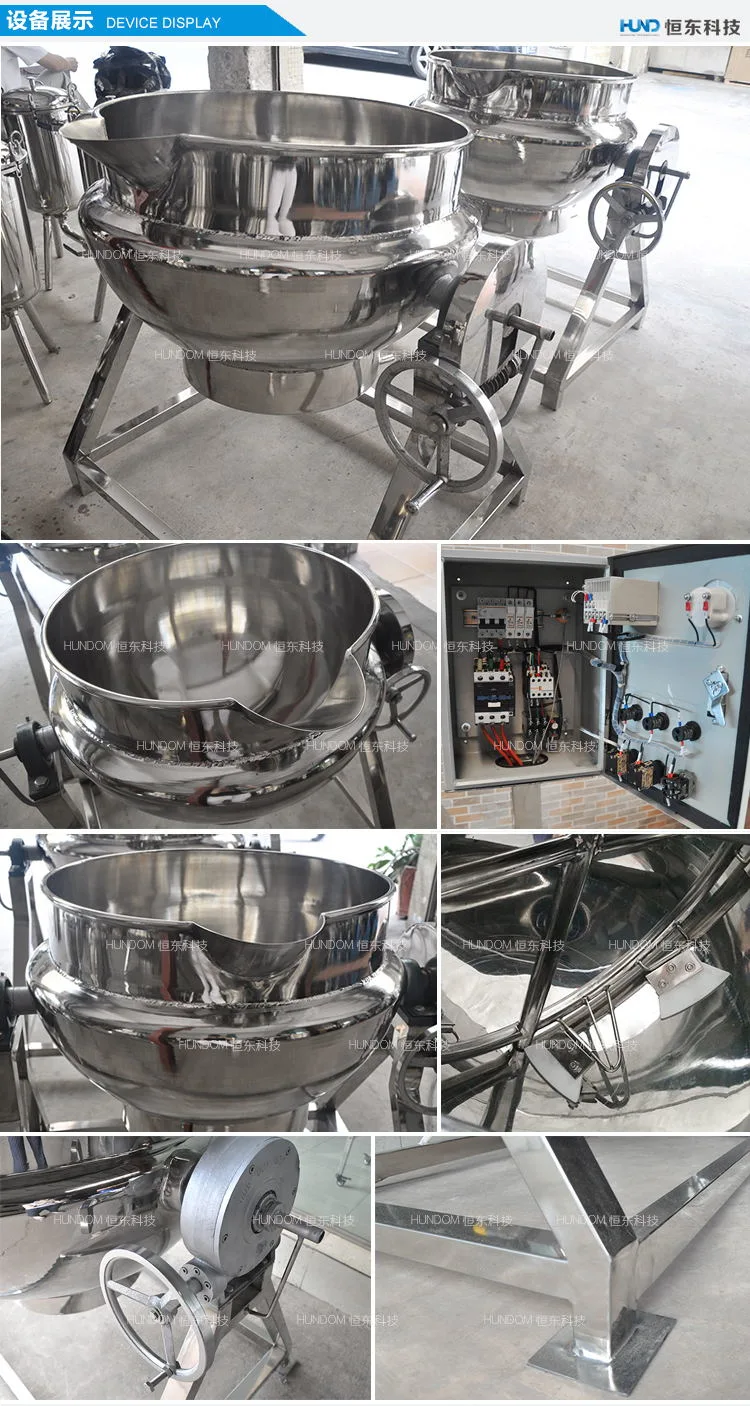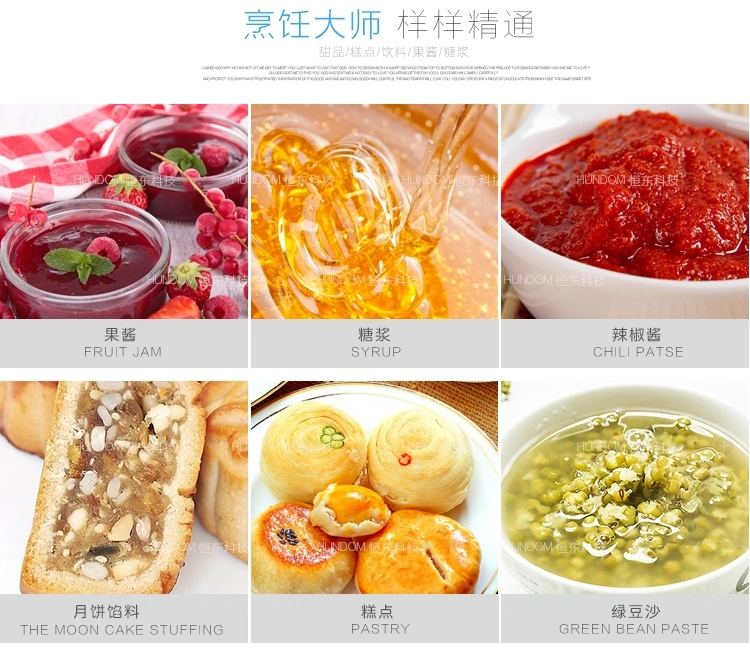 About HUNDOM
Guangzhou HUNDOM Machinery Equipment Technology Co., Ltd. was founded in 2003, is a high-tech enterprise integrating R&D, production and sales. It has more than 17 years of mechanical manufacturing experience. Main production: homogeneous emulsion tank, high-speed mixing tank, heating mixing tank,
in-line
high shear pump, colloid mill, conveying pump, filters etc. HUNDOM has mature technology and high quality products to meet various requirements in the field of food, pharmaceutical and chemical industry.
With a high level of R&D system, HUNDOM constantly strives to improve product quality and technical standards, constantly develops product functions to enhance product life and adherence to precision manufacturing. The ex-factory products need to undergo strict quality inspection procedures to ensure that they meet the quality requirements and inspection standards of all walks of life. The mature technology and rigorous attitude are the guarantee of HUNDOM Technology's product quality, to
think what the customer thinks, and pleased what the customer likes. Provide a reasonable and effective equipment solution. Please believe us: there are high quality products, mature facilities and engineering teams waiting for you. Let's discuss, make decisions and make progress together with you.